This week's link love is about projects. I'm a sucker for projects on the web, impressed by the creativity in others and their stick-to-it-tiveness. I completed a 365 photo project back in 2006 and am so glad I did. Here are some projects I admire:
1.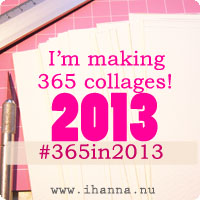 365 collages – I discovered iHanna from the last link love. Intriguing compositions and lots of eye-candy.
2.

Knitted Hexi Blanket – Hexi-puffs (or flats) have been the rage over on Ravelry for a very long time. Disco is making a blanket and raffling it off for charity. Gorgeous color. A "fiver" is one entry to the raffle. More details on her blog. Go Disco Go!
3.
Ordinary Objects – Artist Sonya Philip's projects are always thoughtful and beautiful. My favorite is this one where she knitted (!) into commonplace objects like milk cartons. My favorite is the BART ticket.
4.
Creative planning – Before I found this flickr group, I started doodling more in my planner and looking back, the doodles make me smile. I'd like to continue on a more creative path of documenting my days. The photo above is from Teresa Robinson a.k.a.Stargardener.
5.
A Week in the Life – I admire just about everything Ali Edward's does. "A Week in the Life" is a project that documents the every-day. She's completed a couple of years so far, and invites everyone to join. This year's designated week is coming up, perhaps I'll jump in. Here's her post about the basics of documenting a week in your life.